Have lower interest rates impacted the Hoboken Real Estate Market?
If you've been on the fence about whether it's time to buy, sell, or rent, then keep reading. In this article we're going to look at the median home values in Hoboken, and how they've changed year over year. Then we'll look at supply vs demand, and lastly we'll dig into the latest pending sales data to see if the low interest rates have had an impact on demand.
Median Home Values
According to the Zillow home value index, the year to date home values have dropped 4.5% percent from $770,000 as of July, 2018 to $735,000 as of July, 2019. Curious why this happened? Let's see how supply and demand played a role.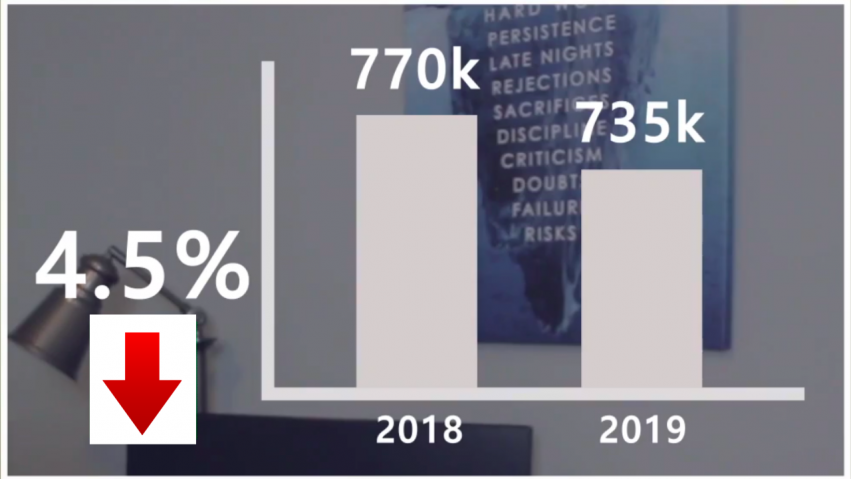 Supply vs Demand
When we look at 2012 to 2017, we had a strong bull run, prices went up over 50%. This was caused by low supply.
On the chart below you can see we only had 153 Active listings vs 68 that went Under Contract in July 2017.
That's basically 2 Sellers for every 1 buyer, which is considered a strong sellers market.
However, in 2018 the level of supply increased dramatically (yellow line on chart), which moved us from a sellers market to a buyers market (4 Sellers for every 1 buyer), which we've been at ever since.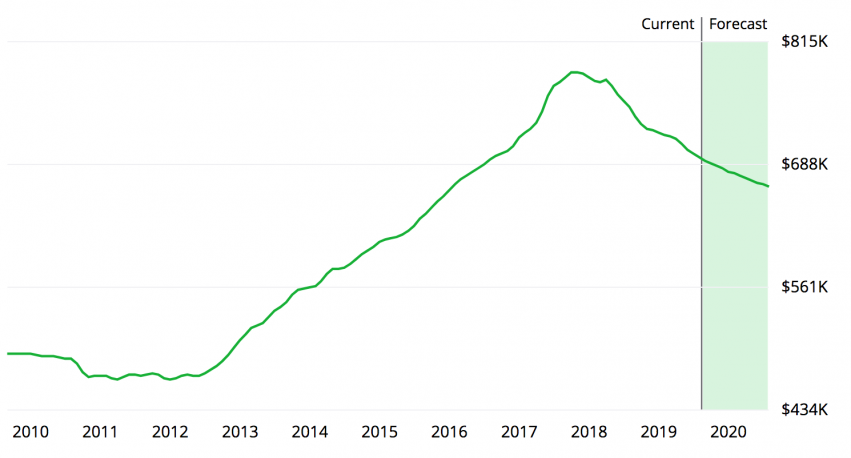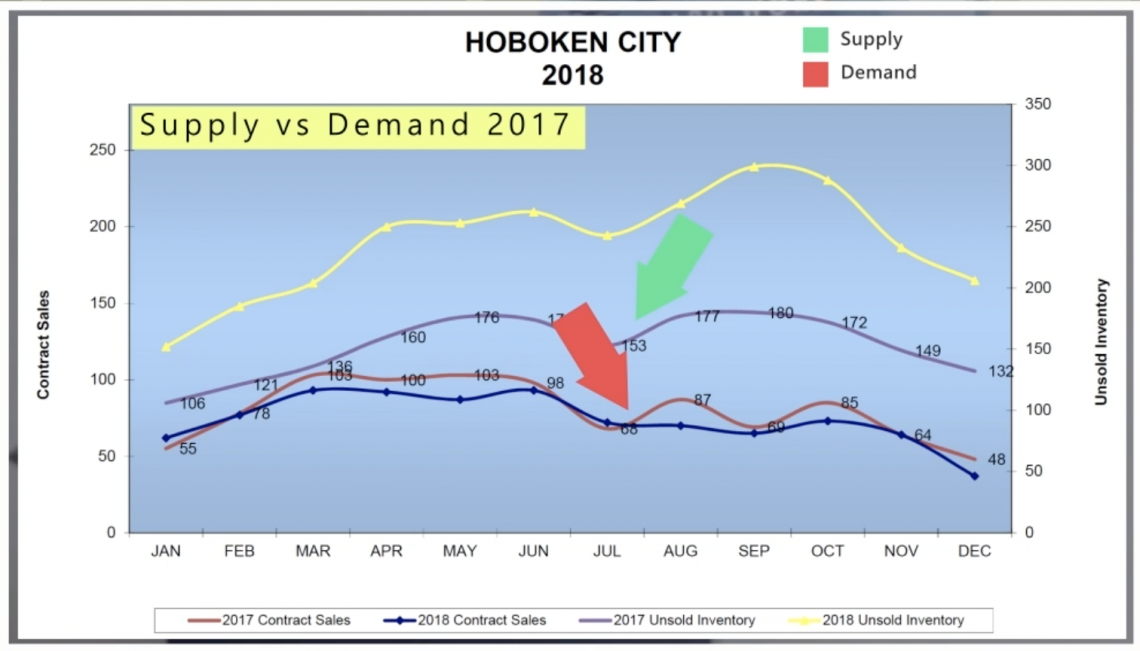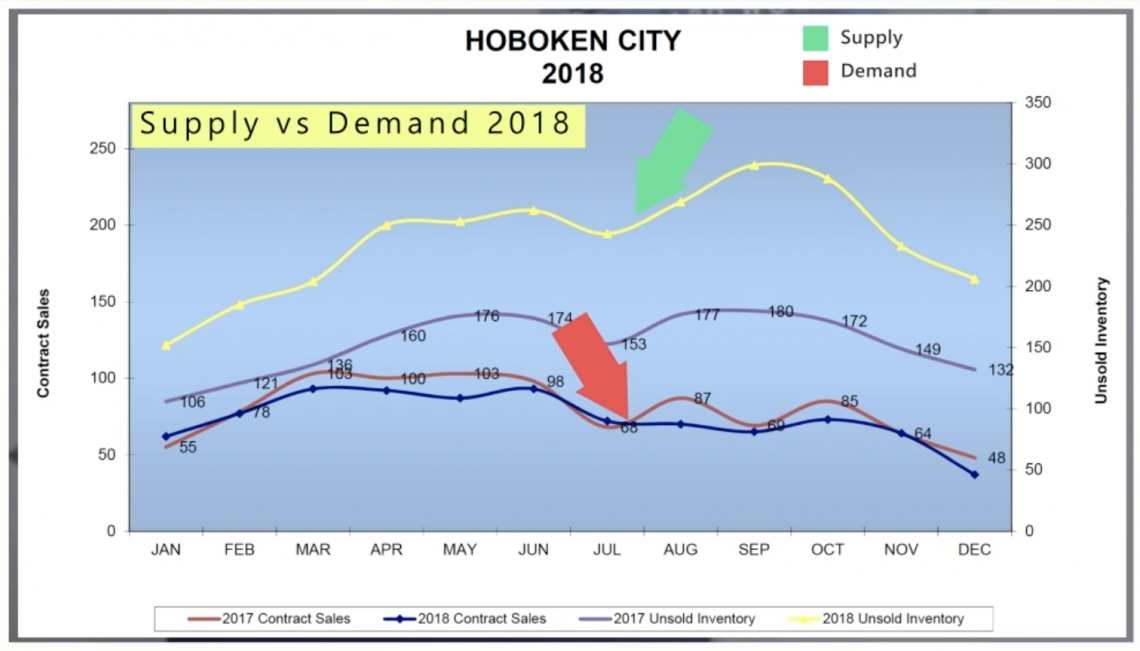 Supply 2017-2019
Let's compare the number of active listing (supply) over the last 3 years. July 2017 we had 153 active listings on the market. July 2018, we saw a significant jump up to 243 active listings. And as of writing this article on August 12th, we have 268 active listings. That's an increase in supply of 75%.
The law of supply versus demand tell us that if supply goes up, then demand has to go up with it. Otherwise prices are going to drop. So let's take a look and see exactly what happened with demand.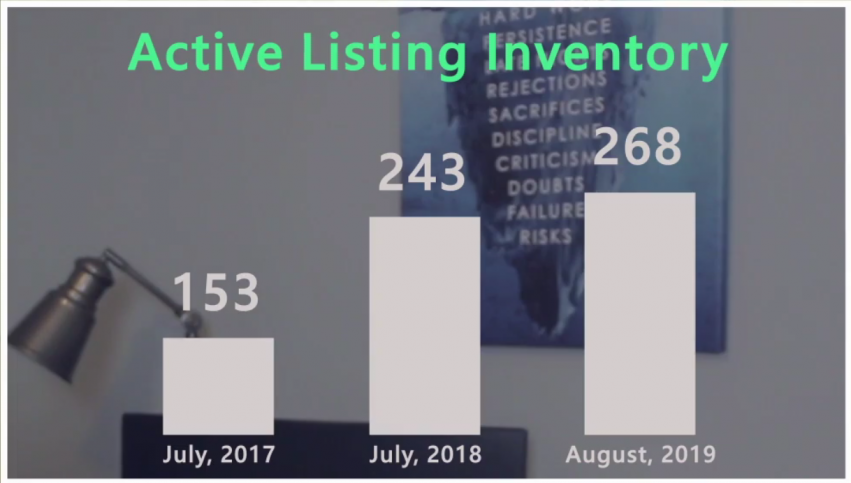 Demand 2017-2019
As of July of 2017, we had 63 properties that went under contract. Fast forward to July 2018, we had a bump up to 74 properties that went under contract, and this year we saw a drop back down to 63 listings going under contract. So demand has remained relatively stagnant over the last 3 years, while supply went up 75%.
Check out the chart below to see how supply and demand have changed from 2018 to 2019.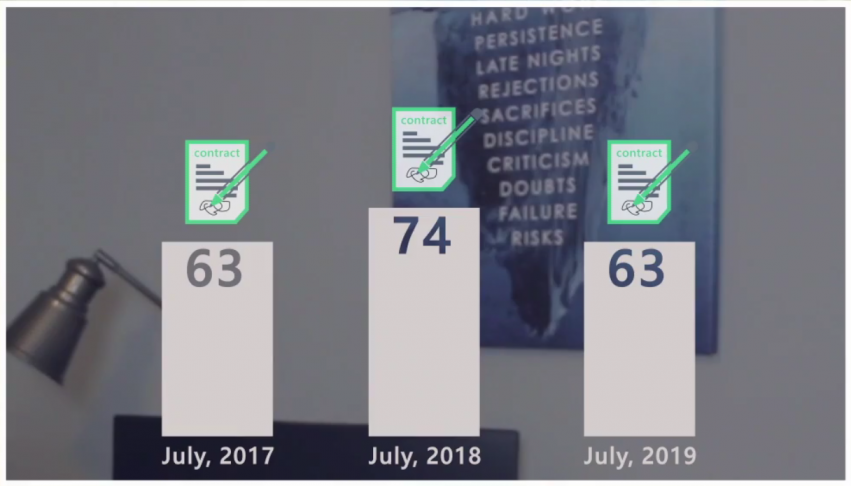 August 2018 vs 2019
If we want to go a little bit deeper, as of writing this article, we've seen 22 properties go under contract in August. Compare that to the same time period of August 1st through August 12th in 2018, we had 28 properties go under contract.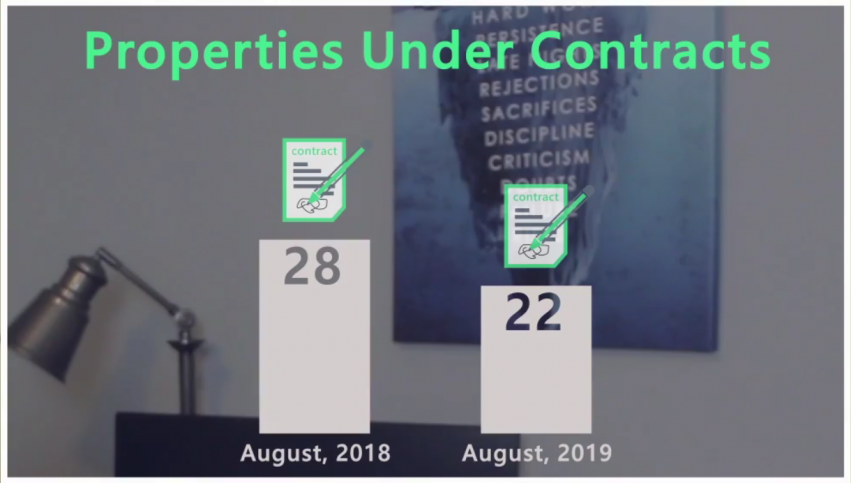 Have Interest Rates Made an Impact?
Based on the number of properties that went under contract in July and August 1st - 12th, interest rates have not had an impact. In fact, the number of properties going under contract has actually dropped.
It's possible that eventually the lower interest rates will have an impact but we aren't seeing it yet.
What does this all mean for home values?
The laws of supply vs demand tell us that until supply comes down, we're probably going to see prices continue to trend downward. Maybe interest rates dropping will give us a boost on the demand side but more than likely it's still going to come down to just waiting for the inventory to get absorbed over time. Once absorbed we can see prices start going up again.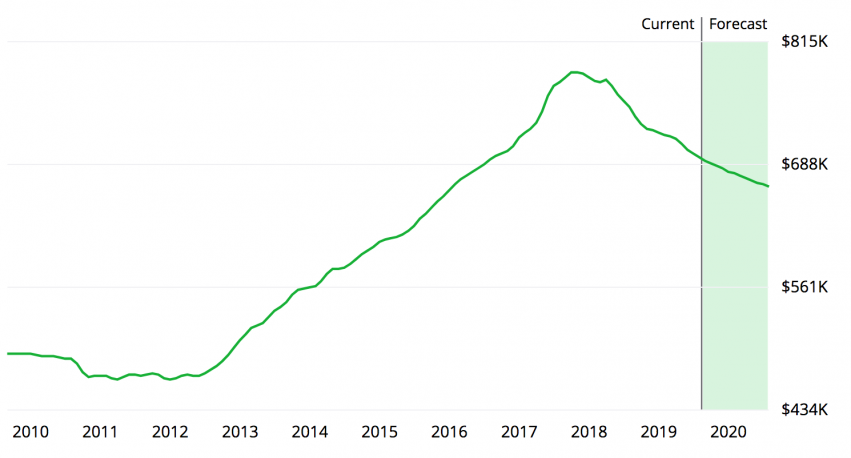 Thanks for your interest!
Someone will reach out shortly. In the meantime, learn more about our team.
Get Our Monthly Market Updates
Stay ahead of the curve
We respect your inbox. We only send interesting and relevant emails.
Disclaimer: All information provided is deemed reliable, but is not guaranteed and should be independently verified. Information referenced in this article comes from the Hudson County MLS, Zillow, and the Otteau Report.